Towing
Licence
Before you tow a trailer, caravan or horsebox it's critical that you make sure you fully understand the legal restrictions and limitations that apply to your own driving licence.
The law regarding towing changed so that if you passed your driving test before 1 January 1997 you automatically get entitlement to drive a heavier car and caravan combination.  If you passed after this date then you will be limited to what type of car and trailer outfit you can tow.
The driving licences issues after 1/1/97 generally include categories B and B1. This means you can drive a vehicle up to 3,500kg (B) and tow a trailer or caravan up to 750kg behind it.  The key thing to remember here is that your total outfit (car and caravan) needs to be less than the 3,500kg limit. You also need to ensure that your caravan or trailer weighs less than the kerb weight of the car. 
There are plenty of car and caravan outfits that will fall into this weight limit but you will need to be very careful and it will also rule out larger cars (e.g. 4x4's) and caravans (e.g. twin axels) .
To drive a larger outfit you will need to have the B+E category on your licence.  As I mentioned before this is automatically included, you can see this on the back panel of the plastic part of your driving licence (see below).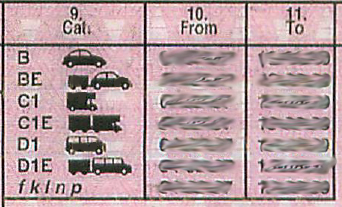 If you passed your test after the 1/1/97 then you will have to take a test to get that entitlement.
B+E entitlement on your licence means you can drive car and caravan combinations up to 8,250kg which is more than enough for most trailers, caravans and horseboxes.
If you drive outside the limits of your licence not only are you committing an offence but you will also invalidate your insurance as well.