Motorhome Insurance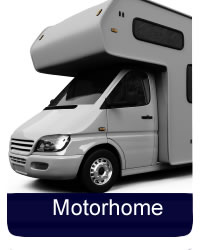 A motorhome is a large investment and you will want to ensure that you get the best deal on insuring your motorhome.
Our simple quote form allows you to compare a number of different motorhome insurance products from different motor home insurers. This will help you get the information you need to get the right product that meets your needs.
Its possible by shopping around to get a really good deal as many specialist motorhome insurers understand that motor homes are lower risks for the following reasons:
They do less mileage each year compared to a car
They are not driven in a hurry as motorhome drivers are relaxed and in a holiday mood.

Motorhome insurance may not cheap but its a legal requirement and its vital to take out the policy to ensure that you have adequate cover for something that represents a considerable investment.
Before deciding on the right policy for you it's critical that you look at the small print of each policy and compare motor home insurance in terms of the details that are important to you. If you don't check out the policyyou could find that if you need to claim you may not have adequate cover and protection!
Its always worth comparing quotes from different insurers to ensure you get the best deal. Each insurer will consider different things when proving a price to insure your motor home. For example one insurer may be the cheapest for an owner who is retired and uses his / her vehicle a lot whereas another insurer might provide the best price for a family who only use theirs a few times a year. Some of the more common factors required for motorhome insurance are:
How many miles the vehicle will do each year
The age and experience of drivers
The vehicle itself e.g. value and age
Security installed on the motorhome and where its stored.
The amount of excess you take