Carrying a Pillion Passenger or Load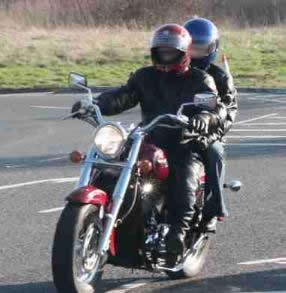 Strangely enough this is one of the things that is not covered in too much detail for either the standard test or any of the advanced tests. Yet it is often one of the hardest things to get the hang of. It is not until you actually try to carry a passenger that you realise just what all this means and exactly how much of a difference it can make. You'll also find out that some adjustments can be made to make the experience safer and more pleasurable for both you and your passenger.
Certain bikes like tourers and cruisers e.g. Honda Gold-Wing, Pan-European, Yamaha Virago, some Harley Davidson's and most of the BMW range are ideal for two up touring, while others make it simply impossible. If you intend to ride two up often, then a 600 cc + sports tourer may be the ideal combination. In any case a bike with a comfortable pillion seat, not perched too high up and a solid grab rail should make it easier on both rider and passenger. While it is possible to carry a pillion on a 50 cc bike, the larger and heavier (180kg +) the bike, the less impact the additional weight will have.
You should also check the manufacturer's manual to see what adjustments you need to make. Some will require different tyre and suspension settings, while others need no modification at all.

The Pillion
There are two misconceptions that I can think of about carrying a passenger, the first is that it is the role of the rider to scare the passenger as much as possible so that they thoroughly regret agreeing to the ride, while the second is that the passenger should be instructed to lean into the bends as much as possible. For me the thought of carrying a petrified passenger who is going to lean over at every bend, when I am not expecting it is as scary as riding on a skid pan.
I therefore take extra care to brief any passenger that I have not carried before and ensure that they fully understand before we set off. The brief goes something like this:
I will get the bike into a safe position and nod for you to get on. When you get on step over the bike without touching the pegs and sit on the seat before putting your feet on the pegs. Give me a tap on the back to show you are ready to move off. You can either hold on to me or the grab rail, but make sure you hold on at all times. When we come to a stop (e.g. a junction) I will put my feet down but you should not. When we come to a corner or bend I will balance the bike, all you need to do is relax and go with the flow, don't try to sit upright in a bend. If you want me to stop or slow down give me a tap on the shoulder. When the ride is over I'll get the bike to a safe position and nod for you to dismount again without using the pegs. Finally relax and enjoy the ride.


| | |
| --- | --- |
| | It's worth noting that a shorter, lighter rider may need to use the foot pegs when getting on and off. In this case you need to encourage them to carefully put their weight on the pegs to avoid tilting the bike too much when they get on. As the rider, you will also need to brace the bike in anticipation for the unbalanced load. |
While this helps to reassure the passenger that this is going to be a good experience, there are a couple of things outside of your control which will make for a difficult experience. Carrying a heavy or tall passenger, particularly in relationship to your own size is going to highlight any problems you have. Depending on the bike, you may decide that the combined weight of you and you passenger is simply too much load for the bike to be safe.
Pillion positions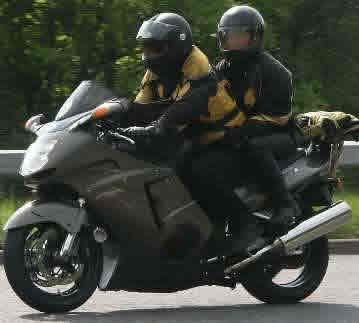 There are several positions which the pillion passenger can use to hold on to the bike. There is no best way, it depends on the type of bike and the pillion passenger's preference. Whichever they choose, it is important that they feel relaxed and comfortable.
Round the waist - Recommended for in-experienced pillion passengers as it gives them a sense of security allowing a better feel for corners (as they will naturally follow the rider). The disadvantage is that the passenger can swamp the rider during braking and stretch them during accelerating. Additionally, depending on the bike, the position may not allow them to see too much as they will be very close to the rider, which also increases helmet knocking.
On the grab rail - This gives less security, but allows a more rigid and stable position. Both the passenger and rider will have more room, with increased visibility for both. This position also reduces the swamp and stretch experience under braking and accelerating. However, extreme acceleration could result in the pillion toppling off the back, if they have not locked their arms in position.
Brace - With one hand on the grab rail and the other bracing in front either on the tank or the seat (depending on the bike), this position creates the feeling of a very light passenger. It allows them to adapt to the road conditions and still have a degree of security and stability. It does take a while to get used to and is not necessarily the best for an inexperienced rider or pillion passenger.
The Rider
As the rider, you must remain in control at all times. You will find that smooth use of the controls and plenty of forward planning will ease the journey. You may also have to adjust your riding style to compensate for the extra load. Engine braking will be less effective, cornering (particularly at low speed) will be harder to get right and you will need to work the motor a bit harder for overtakes. You will also need to be more sure footed at junctions and queues and may wish to use both feet and keep the bike upright rather than lean over with one foot down.
Communication between rider and pillion passenger
If you intend to take a pillion passenger regularly, it is worth buying a rider to pillion intercom. These start at about £50 for a simple acoustic system, which works in the same way as a stethoscope, to over £200, for a bike-to-bike electronic system. From the pillion's point of view they will find it much easier to perform their role, if you are able to warn them about an overtake, tight bend or slowing traffic ahead for example. In addition, the monotony of staring at the back of you helmet is eased, particularly if they know they can relax and look around.

I personally use the Vixen Back-chat system, which is a rider to pillion acoustic system. It works well up to about 80mph and is ideal if you intend to take the same person as a pillion. The key advantage it has over an electronic system is that there is no power requirement and both parties can talk and hear at the same time. However, it would be a bit unhygienic to swap between pillions as the tubes go in you ears like ear plugs.